We are Dador!
There comes a time when opportunity, vision, sense of purpose and circumstance align, and one is sent on a new path. To be forced to make a decision, to take a leap of faith with no security, just with the reassurance of one's own foresight and determination.
I was born and raised in Havana, Cuba. The beautiful and contradictory Caribbean island that has fascinated some as it enraged others. It has always been a place of contrasts.
When I studied fashion design at the Institute of Design in Havana during the early 2000s, the possibility of owning my own business and working in the private sector was non-existent. Free market economy and private enterprise were not permitted. The state run fashion industry had very little to offer me in career development due to lack of resources and options for creative expression. From my perspective, I saw no career possibilities worthwhile pursuing in fashion in Cuba, and with that, no real future as a fashion designer. An alternative came as a costume designer for stage and film, which allowed me the best professional and creative opportunities to pursue after graduation.
The country's difficult economic situation, scarce resources and limited job market were just a few of the reasons that drove friends and family, and eventually myself, in search for a better future outside of Cuba. I left Havana and moved to New York City where I went on to work on a variety of films, stage performances and commercial shoots as costume designer, stylist and producer.
As the Cuban government opened up private enterprise in 2010, and relations with the USA thawed under President Obama starting in December 2014, the entrepreneurial spirit in Cuba was high and business investment opportunities were booming. Cuba was on the world stage, and people were eager to learn more. It was a new opening, a new beginning, and for many Cubans the opportunity to jump in and be a part of defining the path of the new Cuba.
By 2016, I had been consistently spending more time in Havana because of a film project that allowed me to travel back and forth. I reconnected with old friends and started to rediscover my hometown. It was an eye opening experience for me. I personally saw the positive changes that the private sector was having on everyday life. There was a flurry of restaurants, bars and Airbnbs opening up, but it still felt the city was missing alternative lifestyle options. A couple design stores and hip brands like Clandestina had opened up, but it was frustrating to still see the lack of diversity of high quality, thoughtfully designed Cuban-made products and forward thinking businesses that reflected and offered the style options and aesthetic I was looking for. This gave me a sense that there was a niche market to explore.
And so I teamed up with two good friends from college, Ilse Antón and Raquel Janero. The three of us had met at the Institute of Design in Havana while studying fashion design; we did our thesis project together. After graduating, we kept in touch but each of us went our own way. Ilse ended up developing her work as a visual artist and illustrator, and Raquel worked her way through what remained of the state run Cuban fashion industry and other small private shops, working as patternmaker and production supervisor. We started to brainstorm ideas for a potential project that we could develop together and would allow us to join forces. It made perfect sense. We had the same vision and our individual talents and experiences complemented each other well.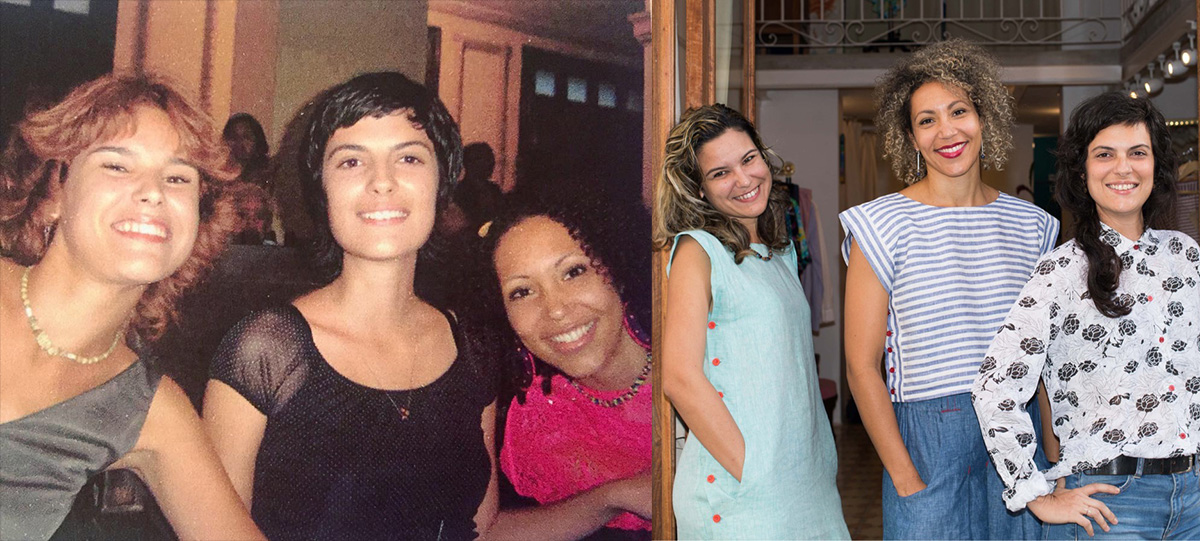 Dador came into being because of the desire to create a forward thinking Cuban lifestyle brand that would reflect the aesthetic of the modern day Havana style, centered around our biggest passions: fashion, art and design.
Dador, the name taken from the poem of the famed Cuban writer José Lezama Lima, means Giver. Creator. It felt important to have a strong concept behind our name, as our initial statement as designers, artists and creators. Dador would be our natural way of giving back, of adding our grain of sand and carving our footprint into the creative design hub that was growing in Havana.
We found our space in Old Havana by chance, after walking around knocking on doors. It was perfect for what we had envisioned, an intimate space in the heart of the city. The building from 1890, with its original wooden ceiling beams, was in deplorable conditions and needed a full renovation. We were up for the challenge!
After brainstorming, developing and settling on a concept for what would be our first Dador fashion collection, we divided into two teams. Ilse and I would handle construction management, while Raquel would handle the prototype and production process for the clothes at her house. For over a year and a half, we spent our days between a full-on construction site and long trips to Raquel's house in Los Pinos, on the outskirts of Havana, to work and follow up on the creative production process.
The day-to-day challenges of renovating and overseeing a construction project in Cuba can be long, frustrating and overwhelming to say the least. There were also other elements on the business side of things that we had to navigate. In a country with limited resources, we had to find creative solutions that would guarantee a sustainable local product, crafted with high quality standards and authenticity. It was like putting together a puzzle, step by step, trying out different pieces to see what fit. We had little to work with, since the business model we aspired to had no precedent in Cuba, so it meant building not only the clothes, but also every part of the business model from scratch.
We did have our mission very clear from the start: to launch a forward thinking Cuban fashion and lifestyle brand that would capture the essence of modern, laid-back Havana life. We would create thoughtfully designed, locally produced, everyday garments that could be effortlessly worn from day to night.
Born and raised in this magical, surreal city, I felt strongly about paying homage. The launch of our first limited edition collection "Body and Soul" is inspired by Havana. It sets the foundation for the Dador design aesthetic: sophisticated structured simplicity with a relaxed island vibe.
After three years in the making, we opened our doors in December 2018 and had our first solo runway show at Fabrica de Arte Cubano on March 2nd, 2019. We are driven and determined to continue defining and building the path we have begun.
I am excited to share our space and designs with the world.
Create. Inspire. Discover.
Welcome to Dador!